In a recent report by the Canadian Red Cross (2012)1, 64 percent of Canadians are using social media sites with 62 percent almost daily. 63 percent expect disaster response agencies to respond to calls posted through social media channels and 54 percent say they would notify loved ones they are safe using social media.
In many cases, the Internet is the pulse of the aftermath and only recently has the field of emergency management begun the transition into cyberspace. Before and after disaster strikes, the Internet is an indicator of what is happening outside of cyberspace. It is one of the first places people look to report and receive information, as well as to collaborate on emergency response tasks such as building missing person lists, crisis mapping, assessing damage to infrastructure and monitoring and aggregating information shared through social media.
In other circumstances, the Internet can act as an outlet for crises to develop and manifest. The results range from denial of service attacks to identity theft to larger scale impacts including the formation of virtual armies, election fraud and civil uprising.
While we continue to face disasters both online and offline, it is imperative that we bridge emergency management principles with online surveillance to build situational awareness and work towards mitigating, preparing for, responding to and recovering from emergencies.
As the Citizen Lab continues to work towards understanding behaviours online surrounding crises, both latent and pending, we have begun to integrate the best practices and lessons learned from emergency management to facilitate this research.
As part of this work, one of our Doctoral Fellows Jennie Phillips attended the conference for the International Association of Emergency Managers in Orlando, Florida last week. Topics addressed included hazard assessment and risk management, emerging technologies for disasters, cyber security, digital volunteerism and resilience, emergency managers from all over North America gathered for the event. Overshadowed by the impact of hurricane Sandy, emergency management discussions happened in real-time as the disaster unfolded, and for some, emergency management duties forced them to return home early to attend response demands in their local communities.
During the conference, Phillips delivered a poster and presentation on Mobile Learning for Digital Volunteers in Disasters. Submitted as part of their student poster competition, she was awarded with first place for her work. The presentation introduced some of her research ideas around using mobile learning as a means to integrate the activities of online communities during disasters into official emergency response channels.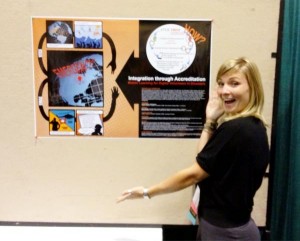 Footnote:
1Canadian Red Cross. (2012). Canadians tapped into social networks, expect emergency responders to use social media: New Red Cross survey (pp. 1–2). Canadian Red Cross.