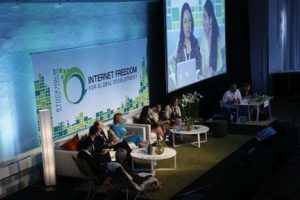 May 24, 2013 — The Swedish Ministry for Foreign Affairs and the Swedish International Development Cooperation Agency (SIDA) hosted the Stockholm Internet Forum (SIF) this week to discuss how to foster freedom and openness on the Internet and promote economic and social development.
Over 400 participants gathered in Stockholm, Sweden for the two-day event, including several members of the Cyber Stewards network. The Cyber Stewards network is a program that supports South-based cyber security scholars, advocates, and practitioners to articulate a vision of cyber security in which rights and openness are protected on the basis of shared research and empirical knowledge. It is coordinated by the Canada Centre for Global Security Studies (Canada Centre) and the Citizen Lab at the Munk School of Global Affairs, University of Toronto.
The SIF's two main themes this year were Internet Freedom and Security, and Internet Freedom and Development.
Moderator Emily Taylor, independent consultant in the field of Internet legislation and administration, led the opening panel discussion on mapping the state of play in Internet freedom. The panel included Minister for Foreign Affairs Carl Bildt, Moez Chakchouk of the Tunisian Internet Agency, Cyber Steward Shahzad Ahmad, Country Director at Bytes for All, Pakistan, Ebele Okobi, Global Director, Human Rights, Yahoo! and Susan Morgan, Executive Director, Global Network Initiative.
Issues discussed during the opening high-level panel included cyber surveillance and the connection between Internet freedom and development cooperation.
Renata Avila, a Cyber Steward from Guatemala, engaged the audience in a game during the first panel on 'Reconciling Freedom and Security in Cyberspace'. She presented case studies of surveillance and asked the audience to guess which city had instituted such surveillance practices. A lively discussion followed, and panelists highlighted the need to interrogate the concept of cyber security by asking 'for what' and 'for whom' cyber security is for.
This year's Forum included an Unconference space where SIF´s participants were given the opportunity to decide themselves what "talks" (debates, lectures, presentations) they would like to see at the conference. Ten sessions were held simultaneously on the afternoon of the second day. Cyber Steward Alberto J. Cedra (Derechos Digitales, Chile) hosted the session on Internet Policies in Latin America: What's Going on and How to Protect Human Rights in the Region? The discussion examined how civil society, activists, academics, and lawmakers contribute to strengthening human rights in the Internet through the Latin American region.
Cyber Stewards Francisco Javier Vera Hott (Derechos Digitales, Chile), Walid Al-Saqaf (Yemen/Sweden), Wairagala Wakabi (CIPESA, Uganda), Lillian Nalwoga (CIPESA, Uganda), and Ramiro Álvarez Ugarte (Asociación por los Derechos Civiles, Argentina) also participated in the two-day event.
The Cyber Stewards met informally throughout the Forum and exchanged experiences with old and new colleagues and friends. The opportunity to meet at various international events and exchange updates on their projects is particularly useful as the network examines how to create thematic links across regions.