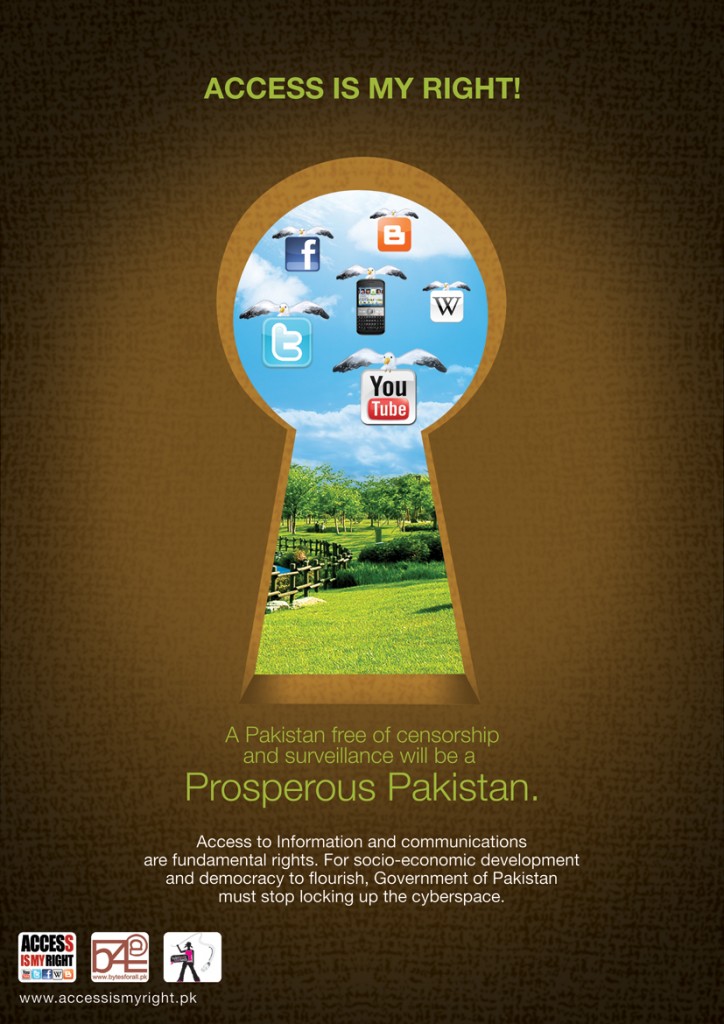 Cyber Steward partner Bytes for All (B4A) has launched "Access Is My Right" — an advocacy campaign to engage Pakistani citizens on Internet censorship, privacy, and freedom of expression in the country. The campaign calls on citizens to raise awareness of information controls by sharing campaign visuals across the Internet, especially on social media sites such as Twitter and Facebook.
B4A describes the campaign as "a call for [a] larger human rights movement in the country and [for] citizens to fight the ongoing censorship as it will further take its toll on already compromised civil liberties in the country."
The campaign features original art pieces by local artist Anny Zafar that highlight government practices and policies that limit the right to freedom of expression and information as guaranteed by the Pakistani constitution. It also complements larger campaigns that B4A has launched in response to threats to user rights, such as online filtering and surveillance.
Bytes for All (B4A) actively campaigns against the use of information controls in Pakistan. In recent years, the Pakistani government has blocked YouTube, Twitter, Facebook, and certain pages on Flickr and Wikipedia over content deemed to be threatening to national security or considered blasphemous. The Pakistani government has also on two occasions imposed cellphone communication bans in the name of national security.
In January 2013, B4A and the Media Legal Defense Initiative (MLDI) submitted a petition to the Lahore High Court challenging the government's censorship of YouTube and other websites, claiming that Internet censorship is a violation of civil and political rights.
B4A's Country Director, Shahzad Ahmad, has pointed out that this case is vital for upholding democratic rights and principles in Pakistan: "YouTube was shut down to try and control the news of massive corruption and human rights violations in the country. In Pakistan breaking news often first comes on citizen journalism platforms and not on mainstream media. YouTube has helped spread stories of human rights abuses, such as extra-judicial killings, and corruption, so from that perspective these channels are very important." These issues have been highlighted in some of the artwork for the Access Is My Right! campaign.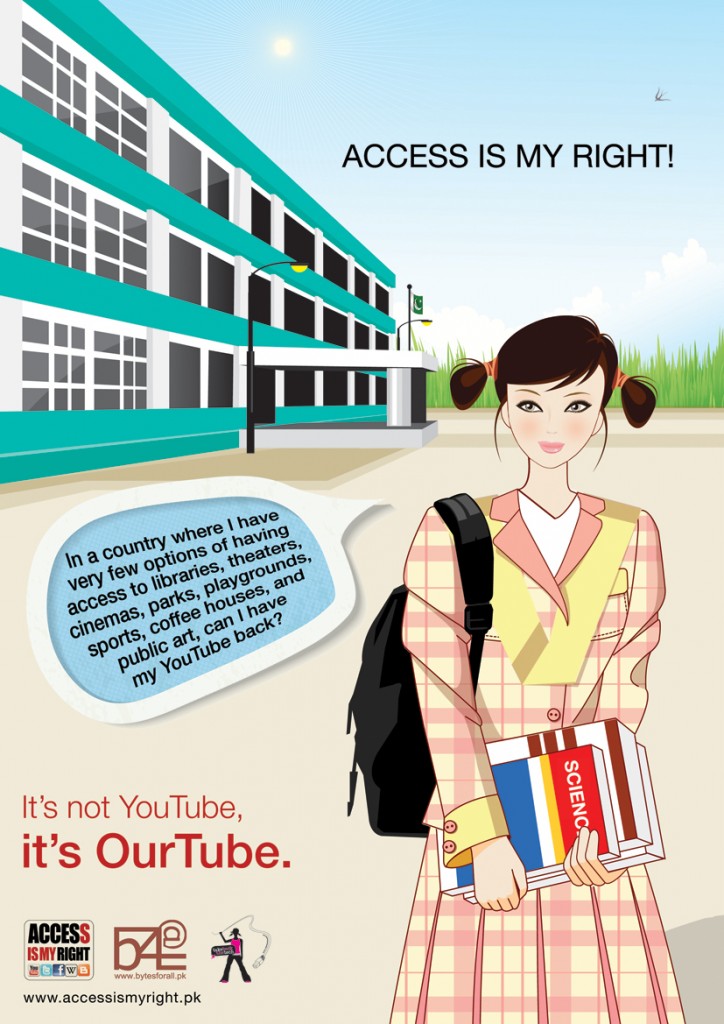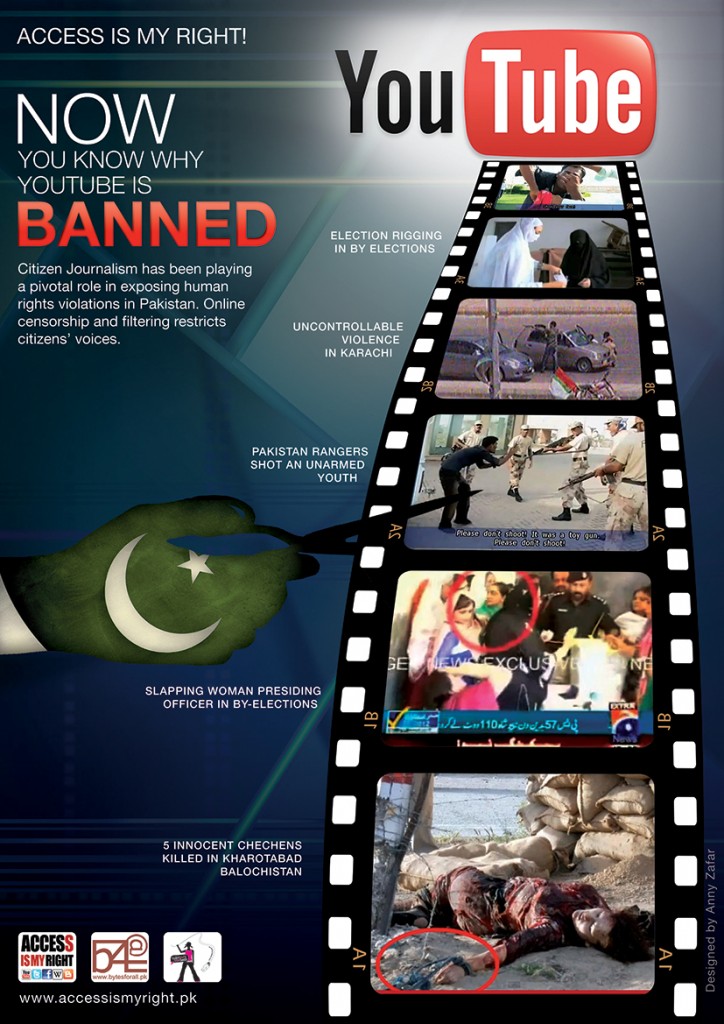 These Access Is My Right! campaign posters highlights why the ban on YouTube violates the principles of right to information and freedom of expression.
In June 2013, research by the Citizen Lab in conjunction with B4A found that filtering software developed by the Canada-based company Netsweeper is deployed on a network operated by Pakistan Telecommunication Company Limited, Pakistan's largest telecom company and operator of its Internet Exchange Point. Netsweeper is used for national level filtering that restricts access to content with political and social themes, including websites related to human rights, sensitive religious topics, and independent media. This development is significant because of the possibility that such censorship will be extended to lower-level ISPs in the country.
B4A has actively campaigned against Pakistan's national filtering system since its proposal in 2012. Recently, it has raised concerns over Netsweeper filtering technology in the country. B4A submitted Citizen Lab's Netsweeper research to the Lahore High Court as well as all relevant UN Special Mandate holders. The Access Is My Right! campaign has been used to raise public awareness about Netsweeper in Pakistan.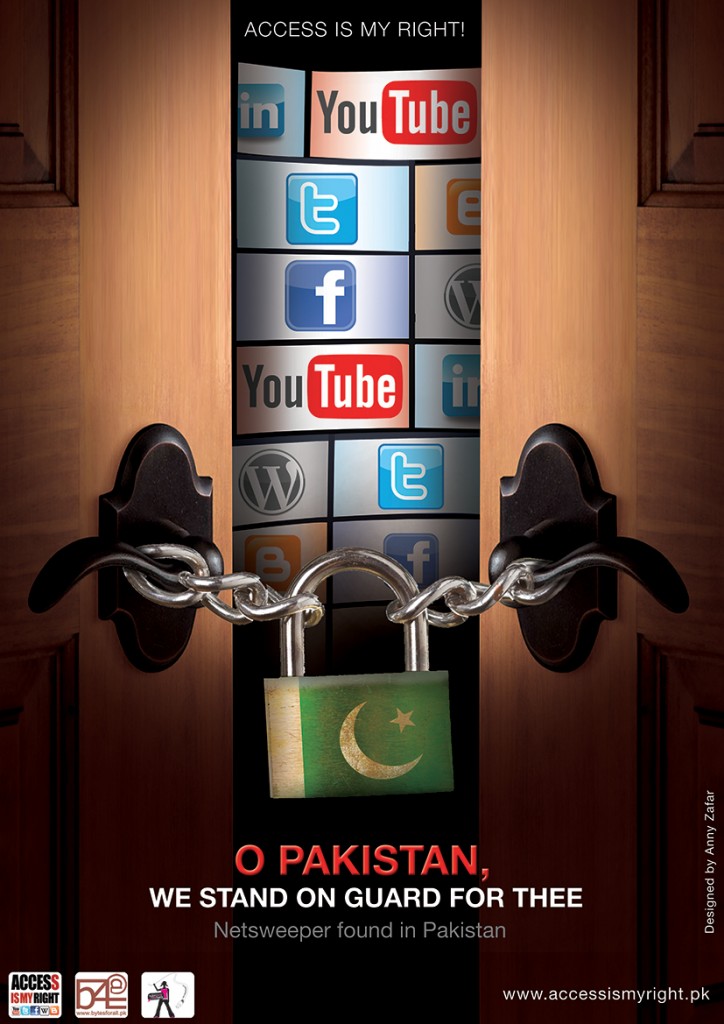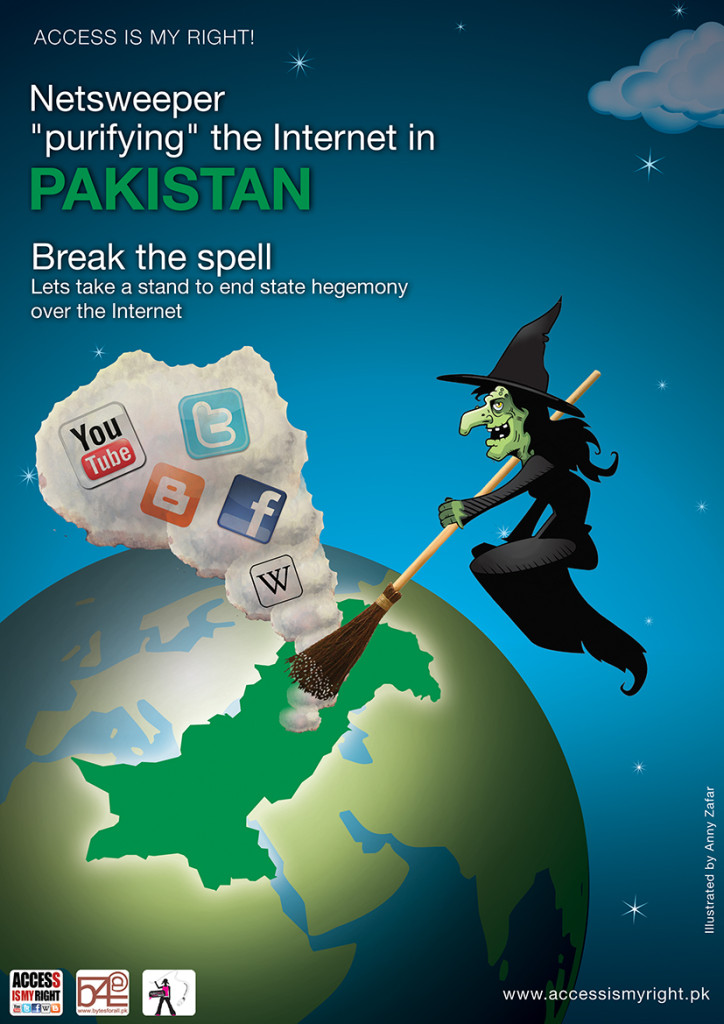 Access Is My Right's Netsweeper campaign posters
Access Is My Right! also draws attention to B4A's work around promoting privacy rights in Pakistan. In 2013, The Citizen Lab found evidence of two FinFisher command and control servers in Pakistan. FinFisher is a "governmental IT intrusion" software that can exfiltrate data, intercept e-mail and instant messaging communications, and spy on users through webcams and microphones. Although the presence of FinFisher command and control servers in the country does not necessarily imply that Pakistani government agencies are operating it, its presence is alarming given Pakistan's lack of strong privacy laws and data protection legislation.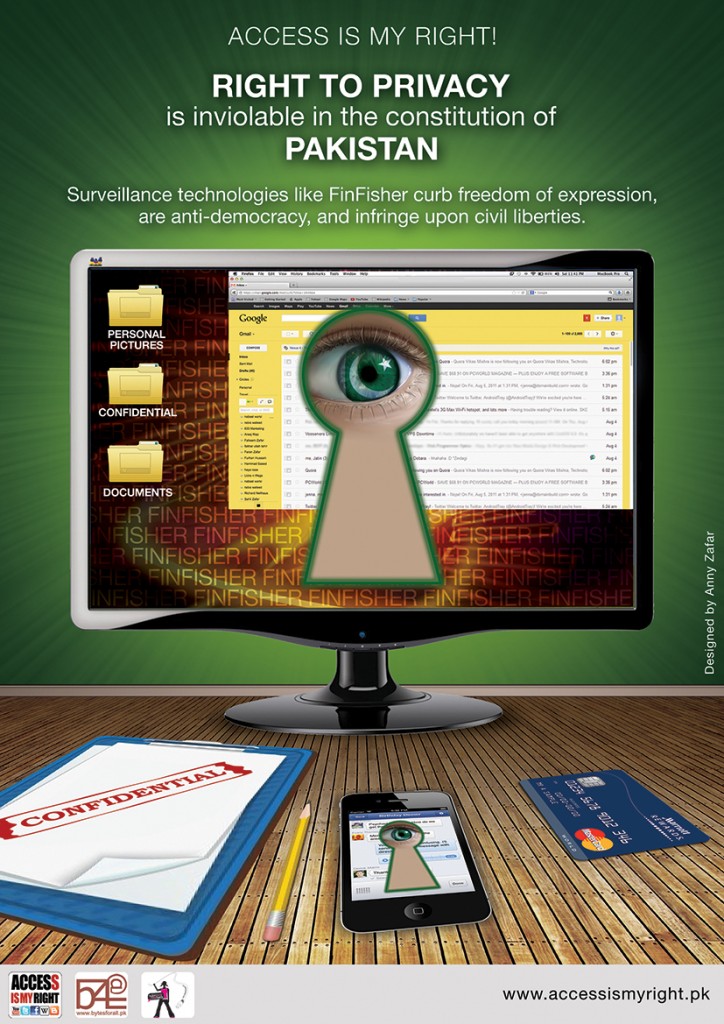 Access Is My Right's FinFisher campaign poster illustrates how surveillance technologies violate the right to privacy.
B4A submitted a writ petition to the Lahore High Court, expressing concerns over increasing threats to citizen privacy, absence of individual protections and the violations of basic human rights granted by the country's constitution, while questioning the existence of FinFisher in the country.This effort resulted in the court ordering the Pakistan Telecommunication Authority to investigate the use of FinFisher in Pakistan.
Access Is My Right! has garnered significant support, with the campaign posters being shared across social media sites. To learn more about the campaign, visit: http://www.accessismyright.pk.