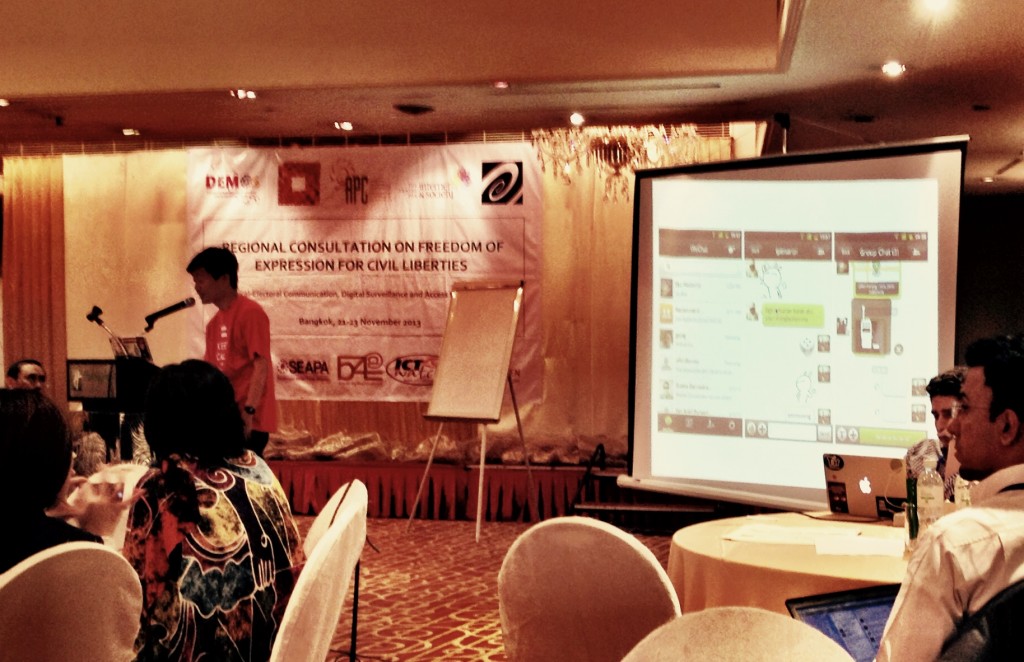 Citizen Lab Doctoral Fellow Jennie Phillips attended the Regional Consultation on Freedom of Expression for Civil Liberties conference on 21-23 November in Bangkok, Thailand. A total of 137 participants from 26 countries attended the conference, which aimed to spark an Asia-wide movement for the protection of online freedom of expression.
The participants consisted of activists, cyber security experts, journalists, and academics, including the UN Special Rapporteur on the Promotion and Protection of the Right to Freedom of Opinion and Expression, Frank La Rue. The meeting resulted in a dynamic conversation about Internet surveillance, access to Internet, and offline communications. Over 1,506 tweets were sent during the 2.5 day conference.
The conference was a collaborative venture between Cyber Stewards Network members, Bytes for All, Pakistan, and ICT Watch, Indonesia, along with Global Partners Digital and Association for Progressive Communications (APC), as well as Asian Forum for Human Rights and Development (FORUM-ASIA) and Southeast Asian Press Alliance (SEAPA).
In an effort to share insights gained during the conference and continue the conversation with a broader audience, the following are a few of its highlights and outcomes.
The importance of access, resources, and political will
Discussing his most recent report, La Rue spoke about the importance of access to information and that the right to access needs to be protected. The provision of access, however, involves an economic side that is often overlooked. Without hardware, software and infrastructure, access is not possible. He argues that tools to facilitate access must be made available to everyone and be subsidized by the state. In addition, political will is important. The Uruguayan government, for example, demonstrated political will by implementing free Wi-Fi in schools across the country.
Internet penetration rate is not directly proportional to the organization of collective action
Cherian George, the Director of the Temasek Foundation – NTU Asia Journalism Fellowship and an Associate Professor at the Wee Kim Wee School of Communication and Information, discussed the paradox between Internet penetration and participation. Asking the question of "What is the role of Internet for democracy?" he said that there is a misconception that access is directly proportional to collective action. For example, Singapore has a much higher Internet penetration rate of 75 percent versus Indonesia's 22 percent in 2012, yet the level of political participation in Singapore is much lower. He speculated that the level of fear played a role, be it a "culture of fear" or "fear of losing something other than liberty."
Several important tools and reports for political change
"Hugs for YouTube" campaign to re-open YouTube access in Pakistan
YouTube has been blocked in Pakistan since the controversial "Innocence of Muslims" video was uploaded to the site. Following the recent announcement that the movie portal, IMDb, was blocked, a Twitter campaign was launched with the hashtag #kholobc ("kholo" means "open" and "BC" stands for "Ban Culture") and a video called "Hugs for YouTube." It is part of a broader campaign on Facebook against religious extremism called "Pakistan for All."
Strategies for addressing challenges of mobile surveillance
Below are strategies that were mentioned for managing mobile surveillance:
Research and data gathering with an emphasis on using research protocols and social network collaboration.
Legal and policy development.
Capacity building through training, workshops, and promotional materials.
Engaging with private sector partners (e.g. ISPs / Telecom providers).
Engaging with public partners (e.g. governments and policy makers).
Network building at the regional, national and international levels.
Steps to end impunity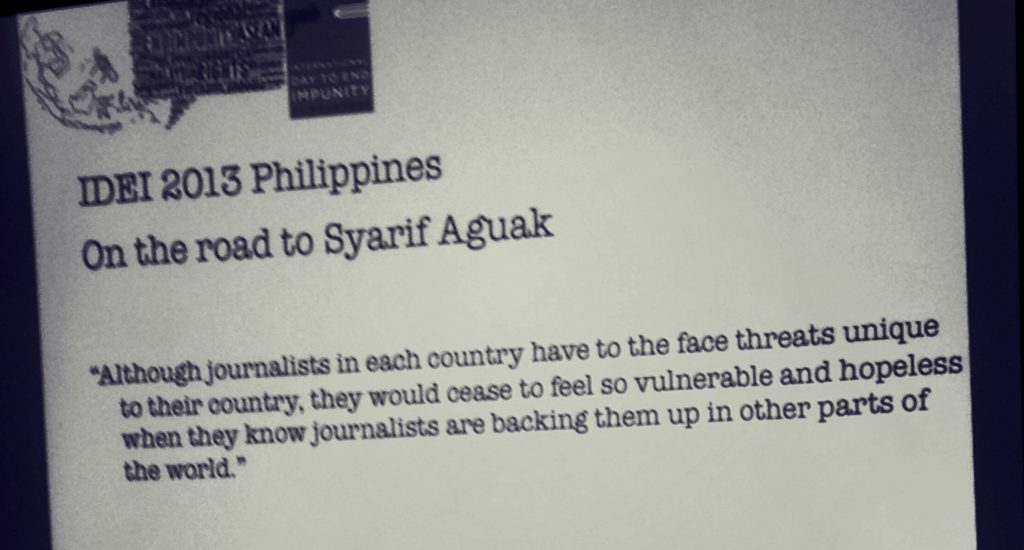 The International Day to End Impunity, which falls on 23 November, coincided with the last day of the conference. On that day, the Center for Media Freedom and Responsibility from the Philippines, a country with the largest single massacre of journalists on record with at least 34 journalists killed, showed a video on "What is impunity?"
Drawing from his report, UN Special Rapporteur Frank La Rue made two recommendations for the fight to end impunity. The first is that journalists should be defined and organized by their function, not by their title or university degree, and therefore their rights could be better protected. Using Italy as an example, La Rue said that journalists in that country are members of a professional association. The second recommendation is that the state must protect journalists. Journalism, he explained, is one of the most dangerous professions as journalists often uncover the abuse of power. He suggested that states grant special protection to journalists and that senior-level positions in government advocate for the importance of the role of a free press for a democratic society.
Decision makers need capacity building too
One of the common threads that emerged from the conference was that government officials often lack technical literacy, yet they are the ones responsible for making decisions on information controls. Therefore, La Rue advocated for human rights activists and cyber security experts to also provide training to lawmakers.