The Citizen Lab is one of the winners of the 2015 Pioneer Award, awarded by the Electronic Frontier Foundation (EFF). Other winners include the late international privacy expert Caspar Bowden, the Association for Progressive Communications (APC) and its executive director Anriette Esterhuysen, and digital community advocate Kathy Sierra.
"This extraordinary group of winners have all focused on the users, striving to give everyone the access, power, community, and protection they need in order to create and participate in our digital world," said EFF Executive Director Cindy Cohn. "This group has worked tirelessly to bring to life a future where new technologies don't compromise privacy or safety, or leave anyone behind. We are so proud to honor them with Pioneer Awards, and we're deeply grateful for the work they've done."
"It is a huge honour and a tribute to all Citizen Lab staff, past and present, to be a recipient of the EFF Internet Pioneer Award for 2015," said Citizen Lab Director Ron Deibert. "It is also very humbling to join a long list of such distinguished award winners who have done so much collectively to work for an open and secure Internet. We are thrilled to see that our impartial, evidence-based research is being recognized by an organization like EFF, which has done so much over the years to promote human rights online."
The award ceremony was held the evening of September 24 at Delancey Street's Town Hall in San Francisco.
EFF's Pioneer Awards, awarded annually since 1992, "recognize the leaders who are extending freedom and innovation on the electronic frontier. Previous honorees have included Aaron Swartz, Glenn Greenwald and Laura Poitras, Richard Stallman, and Anita Borg." Read more about the Pioneer Awards.
Director Ron Deibert accepted the award with Senior Security Researcher Morgan Marquis-Boire and Senior Research Fellow Claudio Guarnieri. The Citizen Lab was introduced by EFF Global Policy Analyst Eva Galperin, who said that the Lab's research on Hacking Team was vindicated by the firm's leaks earlier this year.
Ron Deibert said, "We consider this to be a great affirmation of the work that we've been doing."
Read EFF's summary of the 2015 Awards presentation.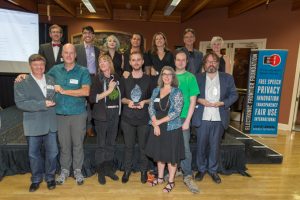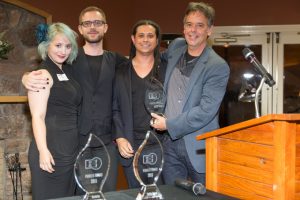 Photo credit: Electronic Frontier Foundation