The Citizen Lab is pleased to announce the release of our new website, which went live on July 10th, 2017. We hope you like it as much as we do. This post provides an overview of what's new.
https://citizenlab.ca
Our new site is housed at a new URL: https://citizenlab.ca. We are using the .ca top-level domain to reflect the fact that the Citizen Lab is based at the University of Toronto in Ontario, Canada. Similarly, we have moved to a new hosting provider also located in Canada.
A new visitor experience
Many different aspects of the old Lab site were modified to bring the new website to life. Here's an overview of some of the major changes.
A more visual approach to displaying content on the homepage and other category lists.

Responsive design so that our site looks its best on any device.

A new

Research page

to better organize our different research areas and showcase our reports.

A better reading experience for our longform posts, including more comfortable line spacing, contrast ratio, and font size.

A re-engineered treatment of authorship, so that multiple authors can be credited and displayed correctly on our research reports.

Related posts so that visitors can keep reading content that interests them.

An overall cleaner look and feel.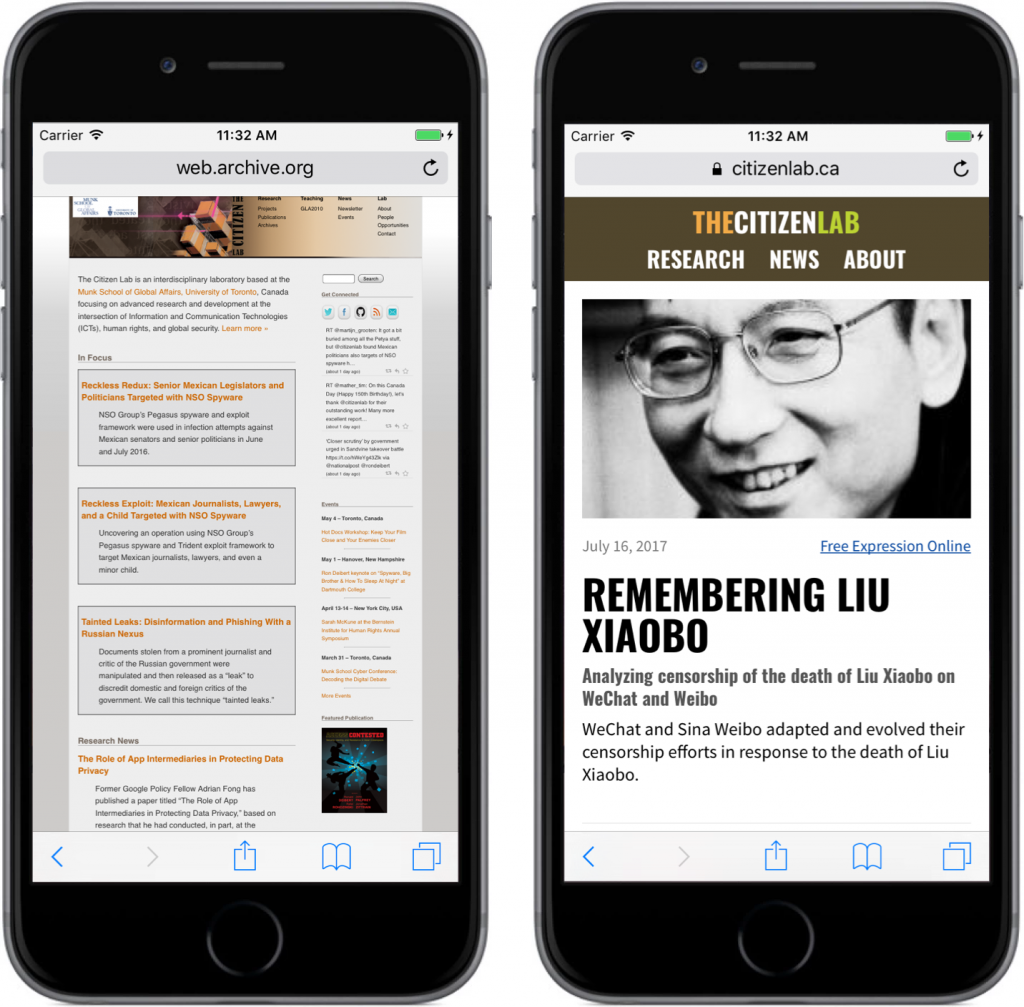 Privacy Policy
We also have a privacy policy which outlines the different ways this website collects data (mainly in server logs, Google Analytics, and your email address if you sign up for our newsletter via MailChimp). Keep in mind you can install ad or tracker blocking to help prevent Google Analytics from monitoring your use of this and other websites.
HTTPS by default
Now that we've moved to dedicated from shared hosting, our website is finally HTTPS by default! What this means is that when you type citizenlab.ca into your web browser, you will automatically be directed to https://citizenlab.ca. The HTTPS in the URL indicates that data transmissions between our server and your browser will be encrypted to protect the confidentiality of what you're reading, and help prevent third parties from tampering with the website data while it's being sent to you.
Feedback
If you have feedback about the new website, such as general usability issues or rendering bugs, please don't hesitate to contact the site's developer, Andrew Hilts.