Summary
This research note outlines what we know about the use of Hacking Team's Remote Control System (RCS) by South Korea's National Intelligence Service (NIS). The note synthesizes information found in publicly leaked materials, as well as our own research.
The data available in the leaked Hacking Team files provides circumstantial evidence pointing to an interest in compromising individuals with ties to South Korea (i.e., Korean language speakers who use software or apps popular in South Korea, or South Korean editions of Samsung phones).
The leaked data alone cannot identify specific individuals targeted by NIS, nor prove misuse of the technology; further investigation and research is necessary to make those determinations. Moreover, the presence of intrusion software does not necessarily equate to its misuse, as such software may be utilized by intelligence or law enforcement agencies in a manner that conforms with rule of law and democratic principles. We are releasing this report in order to assist with further investigation and research into South Korea's use of Hacking Team.
요약
본 연구노트는 한국 국정원의 해킹팀 RCS (Remote Control System) 사용에 관해 저희가 알고 있는 것을 개략적으로 기술한 것입니다. 노트에는 공개적으로 유출된 자료와 저희의 연구를 통해 발견된 정보가 함께 포함되어 있습니다.
중요한 것은, 유출된 해킹팀 파일에서 발견된 자료에는 국정원이 한국과 관련 있는 개인 (민간인) 들을 사찰하는 데 관심이 있었다는 정황적 증거들(사례 : 한국에서 대중적인 소프트웨어나 앱을 사용하는 한국어 사용자 또는 삼성의 내수용(한국 에디션) 스마트폰)이 포함되어 있다는 점입니다.
유출된 자료만으로는 국정원이 대상으로 삼은 특정인의 신원을 알 수 없으며, 해당 기술이 악용되었는지도 증명할 수 없습니다. 이를 확인하기 위해서는 추가적인 조사와 연구가 필요합니다. 또한 침입소프트웨어/해킹프로그램이 존재한다고 하여 악용되었을 것이라고 단정하기 어렵습니다. 정보기관이나 법집행기관이 이러한 프로그램을 적법한 절차와 민주적 원칙에 따라 사용할 수도 있기 때문입니다. 저희는 한국에서의 해킹팀 사용에 대한 추가적인 조사와 연구를 돕고자 본 보고서를 공개합니다.
Background
The National Intelligence Service (NIS) is Korea's main intelligence agency. It was founded in 1961 as the Korea Central Intelligence Agency (KCIA).1 The name and functions of the agency have evolved considerably over time. Named the NIS in 1999, it has a three-part mandate: domestic security, national security, and counterintelligence operations against North Korea.2 Despite widely-reported reform efforts, the agency continues to face criticism for reported and perceived abuses of its power and mandate.3
Recent Scrutiny of NIS
The NIS has been scrutinized for misuse of its powers in a number of cases, which have been revisited in media coverage of the Hacking Team leaks.
In February 2015, a former NIS director was sentenced to three years in prison for ordering NIS agents to attempt to influence the 2012 presidential elections by posting negative comments about President Park Geun-hye's rivals.4 Some of the 1.2 million comments that prosecutors say NIS agents posted accused President Park's rivals of being pro-North Korean sympathizers.5 NIS denied interfering in the election, claiming that the agency's online activities were solely directed at North Korea.6 Recently, the Supreme Court ordered a retrial in the case, as some evidence used to convict the former director was ruled inadmissible.7
Additionally, in 2005, a former deputy chief of NIS was arrested for illegal wiretapping. The prosecutor in the case stated that the deputy chief may have attempted to destroy evidence in the case before his arrest.8
Previous Citizen Lab Report
In February 2014, Citizen Lab released a report entitled "Mapping Hacking Team's 'Untraceable' Spyware," which identified 21 suspected government users of Hacking Team's RCS spyware, including South Korea.9 The report triggered limited media coverage in South Korea at the time.10
Current Scandal
On July 6, 2015, it became clear that Hacking Team had suffered a substantial compromise of its internal systems.11 Shortly thereafter, much of Hacking Team's code, data, and communications were leaked into the public domain. The material not only confirmed that South Korea was a customer of Hacking Team, but exposed substantial commercial interactions between Hacking Team and the "5163 Army Division," whose mailing address matches that of the NIS,12 and is reported to be a codename of the NIS.13
Shortly after this revelation, an employee of the NIS reportedly committed suicide. A note claimed he had deleted information regarding the NIS's use of Hacking Team RCS,14 triggering nationwide interest in who the NIS was targeting.15 Lawmakers said that, in a closed-door meeting, the NIS admitted to purchasing Hacking Team spyware.16 A lawmaker in the Intelligence Committee of the National Assembly of the Republic of Korea disclosed that the NIS testified to the Committee that it had used Hacking Team spyware more than 200 times for counterespionage, and to track the North Korean arms trade.17
The NIS Purchases Hacking Team
According to the leaked files, a South Korean company called Nanatech introduced itself to Hacking Team in August 2010, claiming that it provided "support" in relation to "telecommunication equipments to domestic companies."18 Nanatech was purportedly attempting to acquire solutions to monitor Skype on behalf of its customer,19 and noted that the customer was also interested in "monitoring the voice conversation on the mobile phone."20 Nanatech stated that Hacking Team competitor Gamma Group, developer of FinFisher, was also dealing with its customer through another reseller.21
Notably, it appears that Nanatech never informed Hacking Team that its customer was NIS. In November 2010, Nanatech responded to Hacking Team queries pressing for more information on its customer22 with "About end-user: Our client is the research team of Army (named KINSTEL). I think you don't have to worry about it," which appeared to satisfy Hacking Team.23 Renewed exchanges in June 2011 also indicated the "army" as end user.24 In proceeding with the purchase, Nanatech specifically identified its customer to Hacking Team in November 2011 as the "5163 Army Division."25 The mailing address that Nanatech provided for the Division matches that of the NIS,26 and "5163 Army Division" is reported to be a codename of the NIS.27 This obfuscation of customer identity raises significant questions regarding corporate due diligence and overall transparency in identifying end users of the spyware. Indeed, end user verification is often required by export licensing regimes.
In subsequent emails28 and in its customer list,29 Hacking Team also variously referred to the customer as "South Korea Army," "SKA," or "The Army South Korea."
Nanatech organized a visit for two representatives from the customer, Sunny Han and Se-Hun Lee, and one person from Nanatech,30 to Hacking Team's offices in Milan on 21-22 November 2011.31 Nanatech mentioned that they had managed to outmaneuver the competition, and arranged for the customer to meet with Hacking Team before any meeting with competitors Gamma International and Trovicor.32 After the meeting in Milan, Nanatech expressed that the customer wanted to rush to purchase Hacking Team's RCS, claiming that they needed to spend their budget by 20 December 2011.33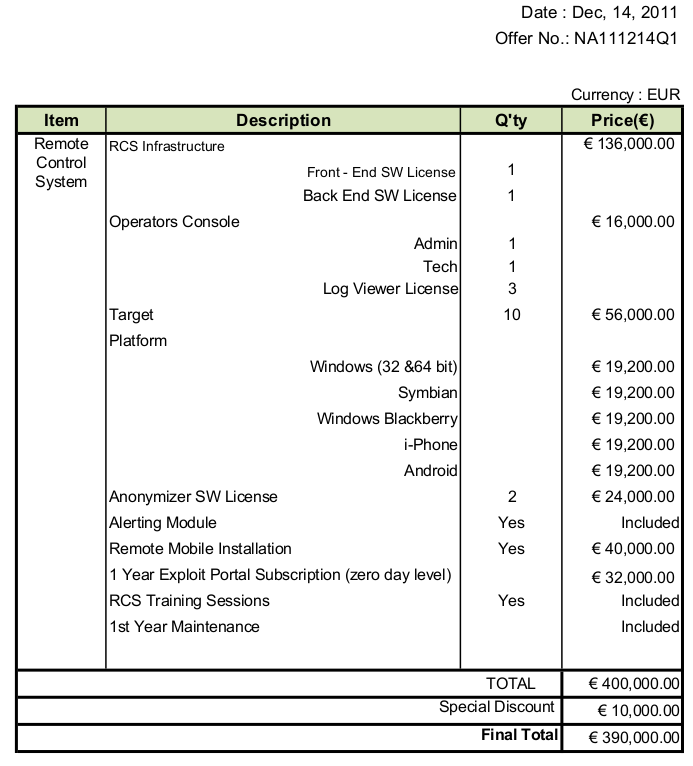 A letter of credit (#M03QY112GS0014) was issued for this offer,37 with delivery to be made to the "5163 site." (See Figure 2 below.)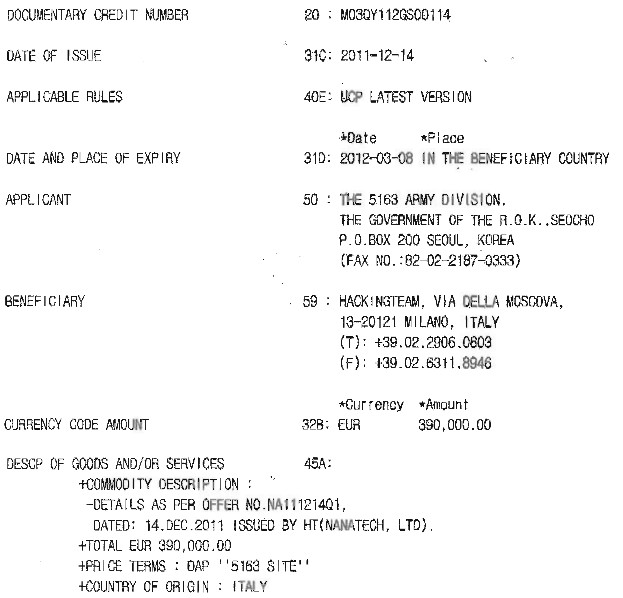 Delivery was completed and accepted by the "5163 Army Division."39 (See Figure 3 below.) The license agreement for Hacking Team's RCS spyware was signed by Sunny Han.40 (See Figure 4 below.)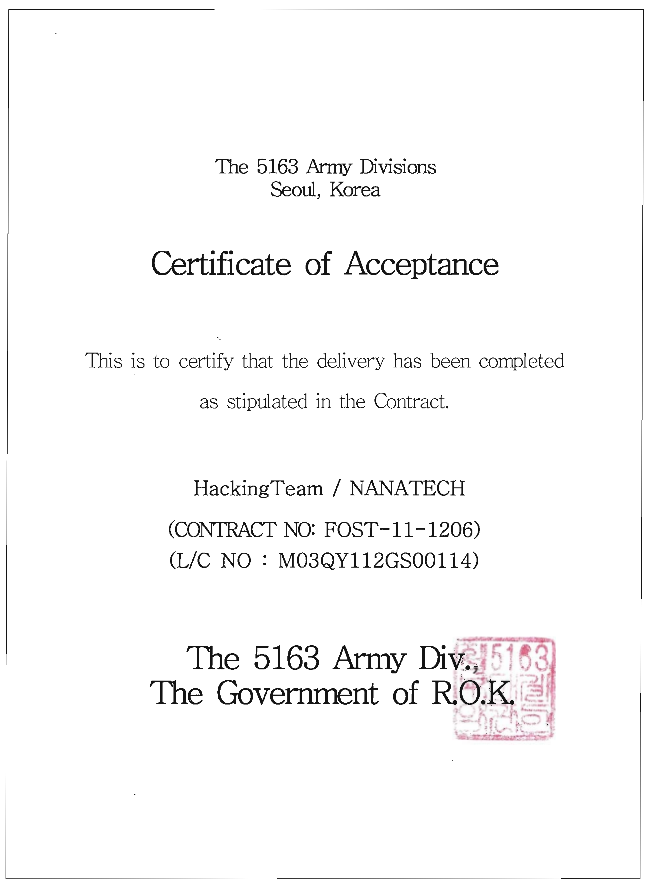 The Korean customer purchased 10 additional target licenses in August 2012, for €57,600, allowing them to monitor a total of 20 targets simultaneously.43
On 6 December 2012, the Korean customer expressed interested in purchasing an additional 30 target licenses, which would have allowed it to monitor 50 targets at once.44 The purchase was apparently never completed, and it appears that no further target license purchases were initiated.
Targets in South Korea?
The data available in the leaked Hacking Team files provides circumstantial evidence pointing to an interest in compromising individuals with ties to South Korea (i.e., Korean language speakers who use software or apps popular in South Korea, or South Korean editions of Samsung phones). However, the leaked data does not identify the targets, or conclusively show whether these targets were inside or outside Korea.
Interest in Targeting South Korean-Edition Phones
The customer communicated with Hacking Team via the email accounts devilangel1004@gmail.com45 ("devilangel") and smiolean@gmail.com.46 Devilangel filed several support tickets47,48,49,50 in August and September 2012 asking for support for call recording on "SHW-M series" (South Korean edition) Samsung phones, as well as, in one case, on "Galaxy S3 Chinese models." Nanatech also contacted Hacking Team to ask for voice recording support for South Korean edition Galaxy 3 phones.51 In January 2013, Nanatech sent a South Korean edition Galaxy S3 to Hacking Team52 to help them support call recording.53 An August 2013 e-mail requests that Hacking Team test their Android exploit against South Korean edition phones.54
Interest in Targeting South Korean Software (KakaoTalk and AhnLab Anti-Virus)
Devilangel requested that Hacking Team test their solution against the latest version of South Korean company AhnLab's antivirus program,5 as well as popular Chinese anti-virus programs, mentioning that they have "some targets in China."56
According to a trip report filed by a Hacking Team employee who visited the Korean customer on 24 March 2014, the customer "asked about the progress of Kakao Talk which they mentioned is very commonly used in their country."57 One of the "key takeaways" of the report was that "Kakao Talk is something which SKA is emphasising." The customer also requested support for voice and message recording on the PC versions of KakaoTalk and LINE (a chat application similar to KakaoTalk developed by LINE Corporation, a Japan-based company).58
KakaoTalk is a chat program developed and owned by the South Korea-based company Daum-Kakao. A May 2015 article notes that KakaoTalk is the most popular chat application used in South Korea and has 35 million users in the country, representing 70% of South Korea's population of 50 million.59
KakaoTalk has previously been the target of government pressure. In 2014, President Park Geun-hye announced a crackdown on the spread of rumors online following criticism of how her administration handled the capsize of a South Korean ferry. As part of this crackdown, a South Korean student and an opposition politician involved in discussions and protests around the ferry incident were notified that law enforcement officials were given access to data from their KakaoTalk accounts.60
Interest in Deploying Spyware via OTA Updates and Wireless Networks
Nanatech also twice inquired about "over the air"61 and Wi-Fi infections, mentioning they wanted to "remotely and forcibly 'push'" the spyware "in a stealth manner onto the target's device without his knowledge or cooperation."62 The Korean customer expressed interest in Hacking Team's TNI (Tactical Network Injector),63 a laptop that "provides everything needed in order to crack a WiFi network, join it, identify the interested target and deploy the RCS Agent."64 The TNI can also create rogue WiFi networks, and can even work with wired networks given special infrastructure access. The Korean customer tested the TNI from April65 until July 2014, but ultimately decided not to purchase the TNI, citing issues including lack of reliable support for mobile phones.66
Use of Korean Bait Content
We identified several instances of the Korean customer using Korean language or Korea-themed bait content:
We observed a drive-by-download attack in 2014 that used a bait content file called "free korean movies." (see: Attribution of "Drive-by-Download" Samples below)
In the leaked files, we found bait content including a file containing the names and phone numbers of Seoul University alumni in Southern California,67 and a file containing information pertaining to the sinking of the ROKS Cheonan,68,69 (and a Computer Science presentation about Machine Learning).70,71
One bait content link72,73,74 contained a picture showing the schedule for the 2015 Geumcheon Harmony Cherry Blossom Festival in Seoul, while another one contained a link to a blog about reviews of rice cake dishes at Korean restaurants.75,76,77,78
Attribution of "Drive-by-Download" Samples
The leaked Hacking Team e-mails allowed us the opportunity to attribute several samples of Hacking Team RCS spyware that we previously observed:
The command and control (C&C) server used in the sample is hulahope.mooo.com, which matches the C&C for numerous Android samples submitted by devilangel to Hacking Team for preparation of exploits. This sample was submitted to VirusTotal on 21 July 2014, and was submitted eight additional times to VirusTotal in the following month, including twice from Korea.81 This sample appears to have been served through a drive-by-download strategy, involving a file "x.js:"
On its own, the script causes an Internet Explorer user to see a popup asking them to authorize an ActiveX control. If the control is authorized, then the spyware is downloaded and executed.
We also found the following sample:
The sample was submitted to VirusTotal once on September 12, 2014,82 and was apparently served by the same drive-by-download javascript method. The C&C server is also hulahope.mooo.com.
Analysis of Bait Content
According to the leaked documents, Hacking Team provides an exploit service to customers that requires that the customers transmit them basic information, including a bait document or link, and their monitoring agent.83 Depending on the type of request, Hacking Team then modifies the bait document to include an exploit to install the agent, or creates a URL that, when clicked, exploits the target's web browser to install the agent. The exploits and agents are hosted on servers belonging to Hacking Team. Hacking Team sends the bait documents back to the customer, who can then send the booby-trapped bait document to targets to infect them.84 The leaked Hacking Team documents contain numerous customer requests to create exploit documents or links, often with bait content attached. In some cases, these bait documents or links speak to the interests, or identity, of potential targets.
Devilangel expressed concern about having to furnish Hacking Team with bait content used to infect victims, as the information "can be related with my target."85 Hacking Team responded that they do not "retain any information about the files the customers send us" (note, however, we were able to identify many files sent by devilangel for infection) and suggested that devilangel choose a document "containing not so sensitive data."86 Given devilangel's concerns and Hacking Team's advice, bait documents may have been chosen to minimize the link between the bait content and the target.
Devilangel's exploit requests also sometimes included a statement as to whether the exploit would be used for "testing" or "real targets." Below, we provide an overview of some common themes associated with the bait content and bait links submitted by devilangel to Hacking Team. We exclude any marked "testing:"
We describe Korean-themed bait content above (see: Use of Korean Bait Content).
Some of the bait content includes generic holiday greetings. For example, "Happy New Year" messages, or Christmas greetings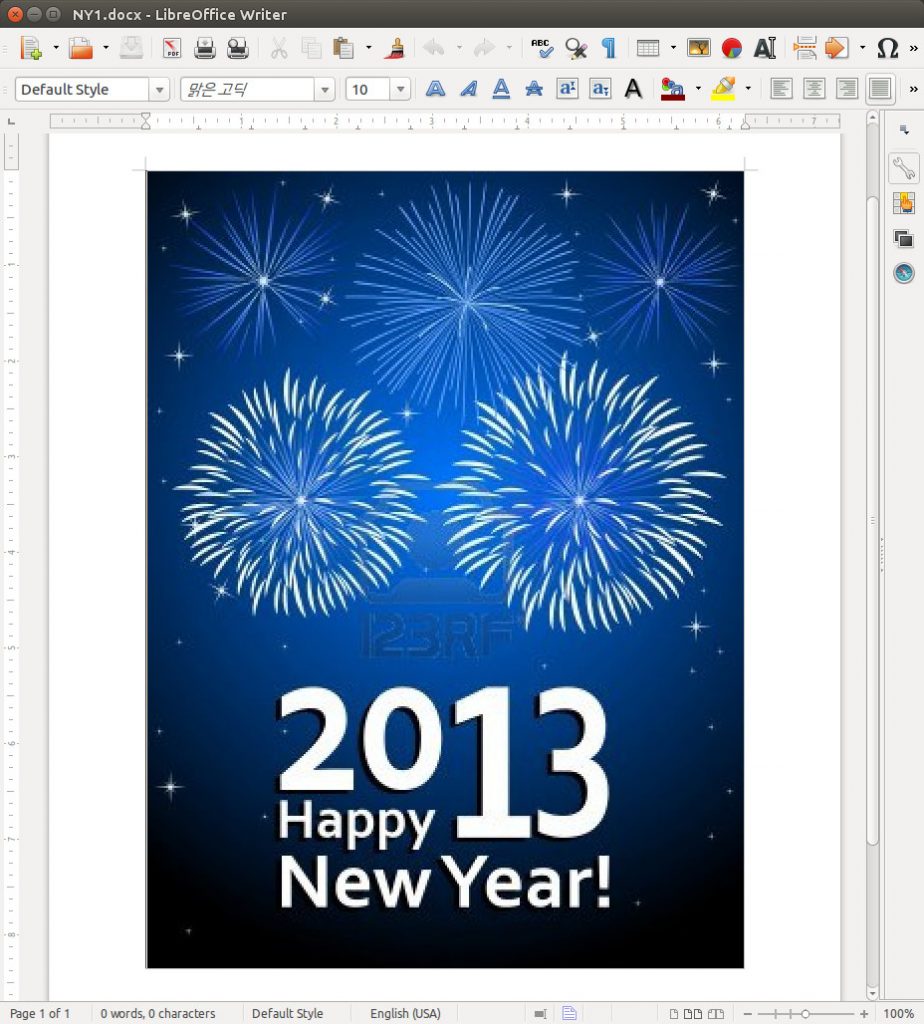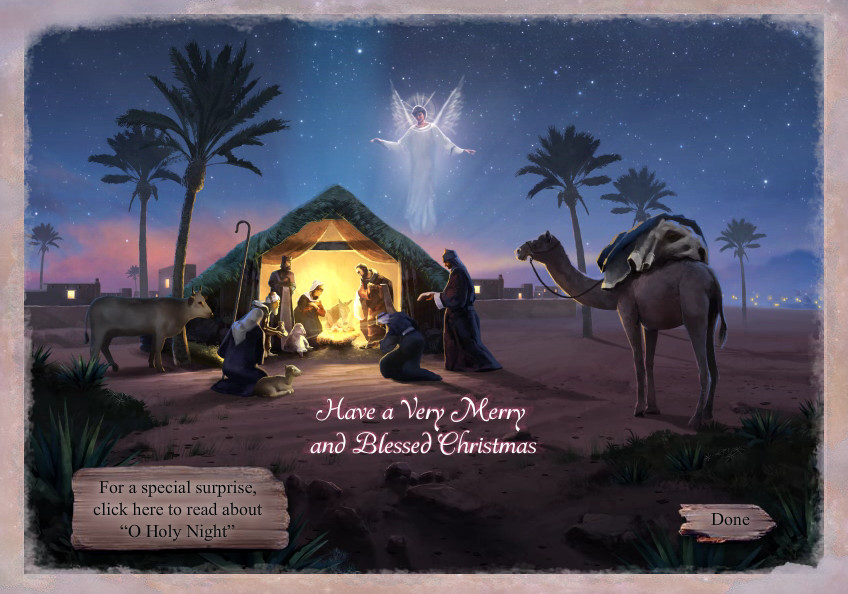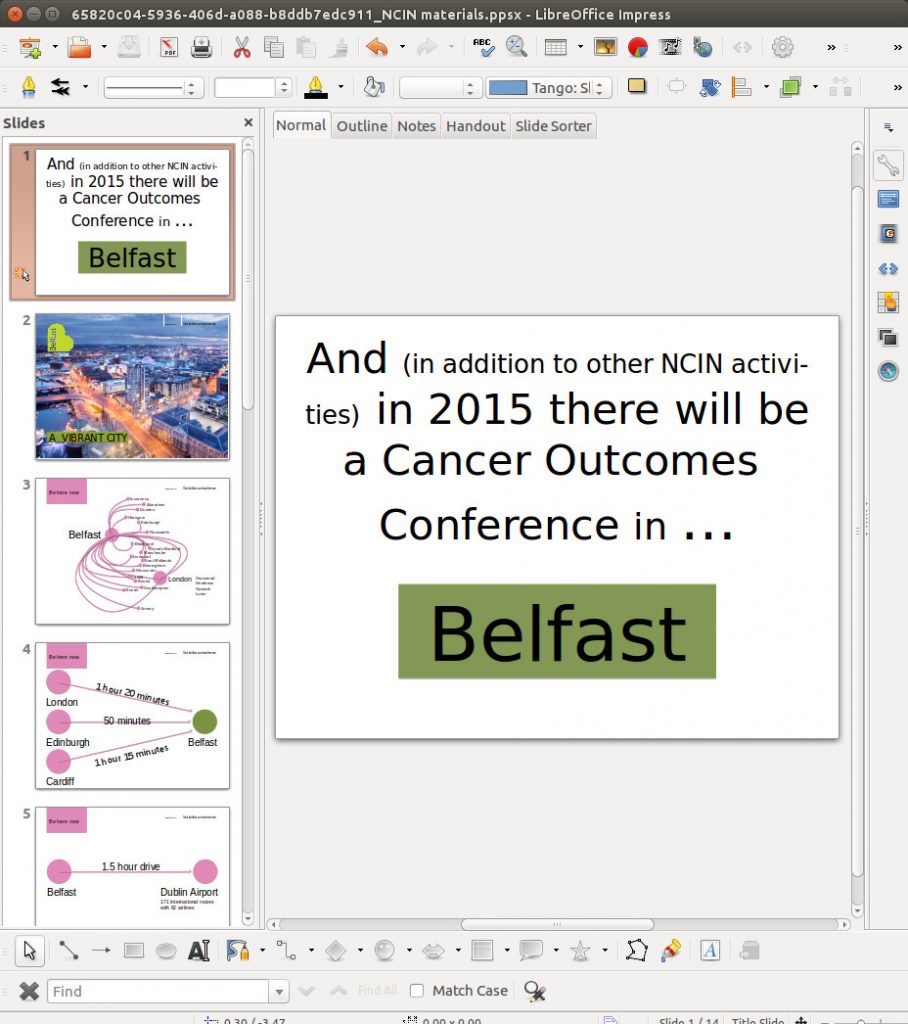 Some bait content included tips for protecting online privacy, including one PowerPoint presentation called "Save you Privacy" and a Word document called "How to Access and Clear Your iPhone's Web Browsing History."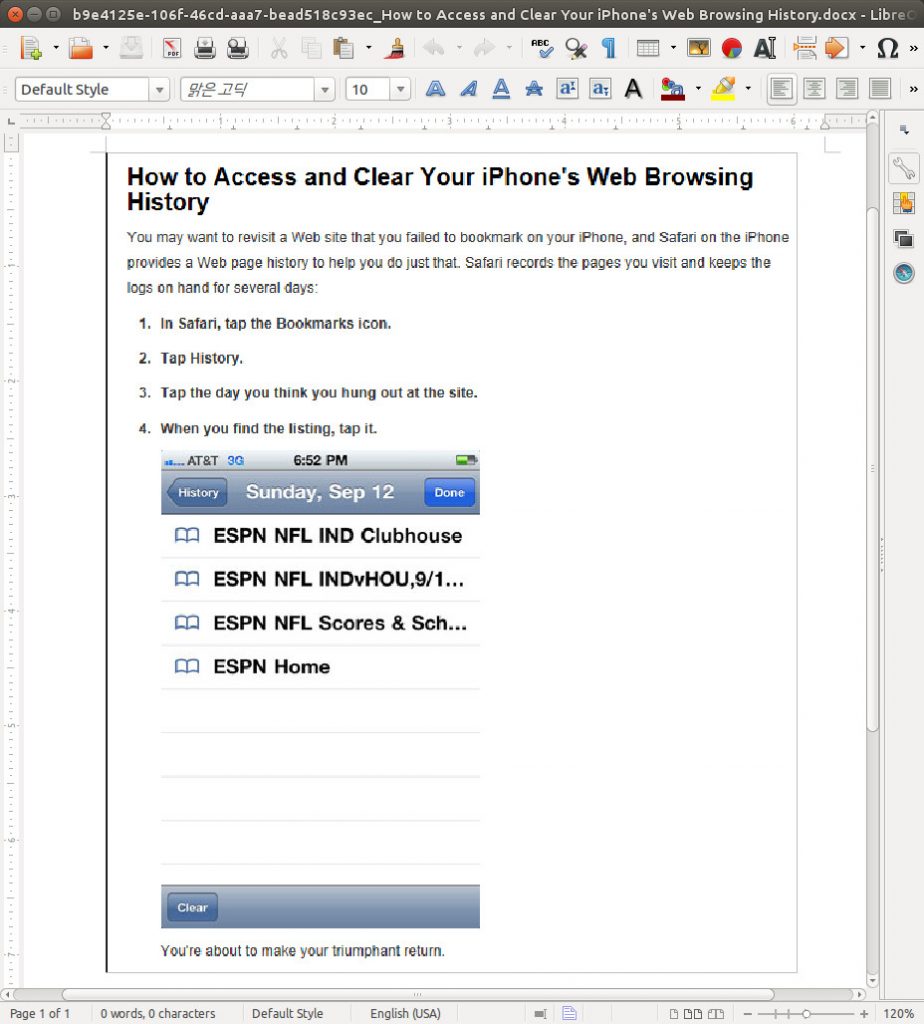 Exploit server Logs
The leaked Hacking Team data contains files "Exploit_Delivery_Network_android.tar.gz," and "Exploit_Delivery_Network_windows.tar.gz," which appear to contain detailed information about each exploit link or document generated by Hacking Team upon customer request (for May and June 2015), as well as details of which IP addresses clicked on each link (or opened each document), whether the exploitation was successful or not, which website directed each visitor to the exploit (if applicable), as well as the language and model of the phone (in some cases of Android exploits). The log information is in "var/www/files/[ID]/log.jsonl," where "[ID]" is the six character alphanumeric ID assigned to the exploit by Hacking Team.
We present details on all clicks on Android exploit links below (we did not identify any Windows exploits requested by Hacking Team during this period). Hacking Team's Android exploit involved a link sent to the target's phone. If the target opened the link in the built-in Android web browser app, then the exploit may have installed Hacking Team's RCS on their phone. Importantly, the list below excludes individuals who did not click on the link (as Hacking Team cannot record logs in this case):
| | | | | | | | |
| --- | --- | --- | --- | --- | --- | --- | --- |
| BBltjx99 | 6/29/2015 13:01:49 | 212.5.158.22 | BG | NX403A | en-US | | No |
| BBltjx | 6/29/2015 13:02:16 | 212.5.158.70 | BG | NX403A | en-US | | No |
| bO47cc100 | 6/22/2015 11:24:22 | 93.84.2.181 | BY | SM-A500F | | | No |
| BR2u9z101 | 6/22/2015 10:50:03 | 109.188.125.17 | RU | SM-G800H | | | No |
| 8CS48M102 | 6/18/2015 10:32:23 | 92.230.140.206 | DE | GT-I9103 | ko-KR | | No |
| v9K0GQ103 | 6/18/2015 10:45:13 | 213.87.129.241 | RU | GT-I8190 | ru-RU | | Yes |
| jAWxkt104 | 6/26/2015 01:33:51 | 220.181.132.217 | CN | G700-U00 | zh-CN | http://video.sexyhub.co/x/?rd=SjLzM2 | No |
| zuggfM105 | 6/17/2015 11:23:43 | 49.230.231.158 | TH | SM-G900F | | | No |
| zuggfM | 6/17/2015 11:28:25 | 49.230.225.3 | TH | SM-N910C | | | No |
| zuggfM | 6/17/2015 15:37:27 | 139.193.176.58 | ID | S5E | en-US | | No |
| zEsa9i106 | 6/17/2015 10:55:09 | 111.80.143.117 | TW | SM-G900I | | | No |
| vYLpBl107 | 6/18/2015 03:34:39 | 175.168.46.204 | CN | SAMSUNG-SM-N9008V_TD | zh-CN | | No |
| 8n3gio108 | 6/12/2015 12:01:41 | 114.124.0.237 | ID | GT-S7270 | | | No |
| 7ZSBlX109 | 6/4/2015 06:32:58 | 223.62.169.2 | KR | SHV-E250S | ko-KR | http://dns.cdc-asia.org/docs/7ZSBlX/fwd | Yes |
| 9hN2Zn110 | 6/1/2015 9:07:03 | 41.210.154.105 | UG | GT-I9100 | ko-KR | | No |
| 9hN2Zn | 6/1/2015 9:14:43 | 41.210.154.13 | UG | SM-N900 | | | No |
| uPz4mj111 | 6/17/2015 10:46:17 | 223.62.212.18 | KR | GT-N7100 | en-PH | http://link.sexyhub.co/docs/uPz4mj/fwd | Yes |
South Korean Targets?
The data shows that there were two successful Android exploitations of phones with Korean IP addresses: one SK Telecom edition Galaxy Note 2 with SK Telecom IP address and Korean-Korea locale, one international Galaxy Note 2 with SK Telecom IP address and English-Phillippines locale. There was only one other successful exploit in May and June 2015: a Galaxy S3 Mini with a Russian IP address and Russian-Russia locale.
One individual with a Ugandan IP address, and one individual with a German IP address, clicked on the link with their locale set to "Korean-Korea."
Command and Control and Exploit Infrastructure
Using referrer URLs in the exploit server logs, as well as domain names and IP addresses found in the Korean customer's malware samples, we were able to characterize their Hacking Team infrastructure.
We start from the domain name dns.cdc-asia.org, used in a referrer URL seen in the exploit logs. We assume that the Korean customer controlled dns.cdc-asia.org, because this URL referred to the exploit requested from Hacking Team, and was not sent to them by Hacking Team. We further assume that the customer controlled the domain name cdc-asia.org, as the registration date of the domain (June 3, 2015) matches the date that devilangel requested the exploit112 that was clicked on with referring domain dns.cdc-asia.org.
We found the following registrant information for cdc-asia.org:
The name server suggests that the domain was registered with ititch.com, a service for purchasing domain names and web hosting using Bitcoin.
We found two other domains registered with the same registrant email:
mytelkomsel.co
telegram-apps.org
We plugged these domains, as well as cdc-asia.org, into PassiveTotal113 in order to identify other domains using the same IP address. PassiveTotal is an infrastructure analysis tool designed for security research. We found that cdc-asia.org resolved to 180.235.132.45, and two other websites resolved to this same address: droidlatestnews.com, and enjoyyourandroid.com.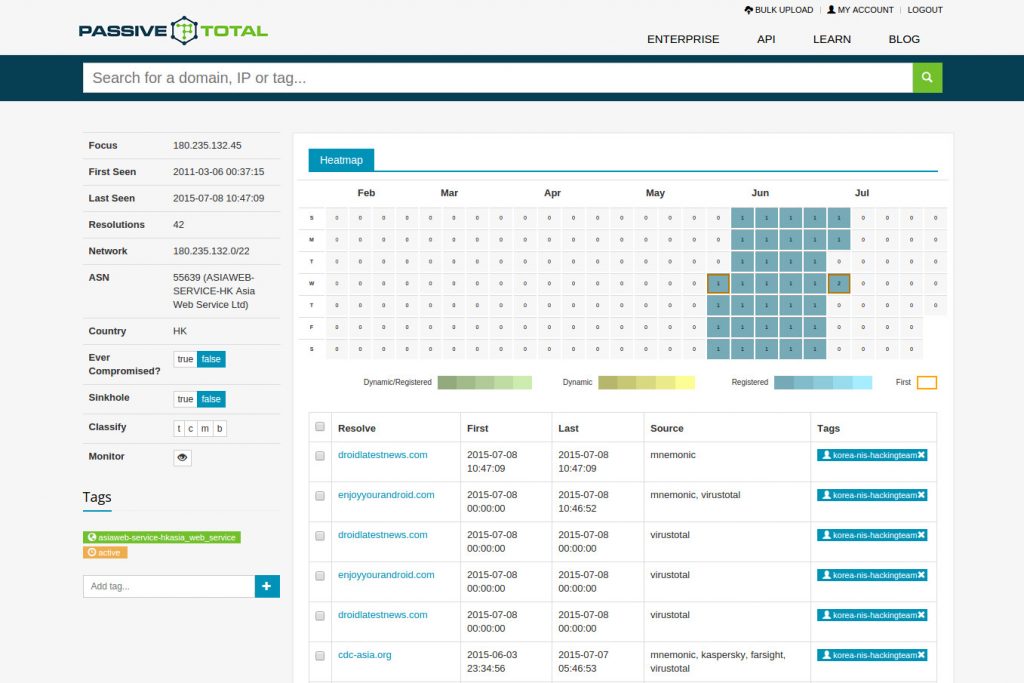 The initial registrant information for both domains was as follows:
The name server suggests that the domain was registered with domains4bitcoins.com, a service for purchasing domain names and web hosting using Bitcoin.
Note that the registrant name, "Leonard Freeman," uses the same surname, "Freeman," as the registrant for the previous three domains "Krystal Freeman." The registrant email address for both domains was updated after July 8, 2015 (after the Hacking Team leak) to the following:
We plugged droidlatestnews.com and enjoyyourandroid.com into PassiveTotal, and found that these resolved to 95.215.46.224. We found several other domains that resolved to this IP address:
We also checked registrant email addresses and phone numbers to find additional domains:
It is noteworthy that play-mob.org was registered on 8 April 2015, a day after devilangel requested Android exploits redirecting to "play.mob.org".114 We provide a list of suspected domain names linked to the Korean customer below, including the domain names above, as well as domain names from RCS samples submitted by devilangel to Hacking Team, and RCS samples detected by Hacking Team on VirusTotal and attributed to the same customer:
The domain names above were associated with the following e-mail addresses:
We also identified the following IP addresses associated with the Korean customer's infrastructure:
It also appeared that the Korean customer's exploits were served from the following IP addresses, which may belong to Hacking Team, and thus have also been used to serve exploits for other Hacking Team customers:
In our 2014 report, "Mapping Hacking Team's 'Untraceable' Spyware," we identified the following IP addresses associated with the South Korean customer:
Conclusion and Further Investigation
We have outlined circumstantial evidence indicating that NIS was interested in targets with links to South Korea, and in two cases infected devices belonging to "real targets" inside South Korea.
The leaked data alone cannot identify specific targets. Thus, we presented some technical data regarding the NIS's Hacking Team RCS command and control infrastructure, which may be useful in further investigation.
We briefly outline some promising avenues for further investigation:
First, obtaining DNS logs over the past year associated with the domains publiczone.now.im and hulahope.mooo.com would be very helpful, as this would reveal IP addresses of infected devices.
Second, organizations or institutions that run Intrusion Detection Systems should check their logs for hits on the IP addresses and domain names provided herein.
Third, groups focused on testing should scan the e-mail accounts of potential targets, as well as their SMS message logs, WAP push message logs, and logs of any other mobile messaging apps, for any e-mails or messages containing the domain names we identified (or any links, such as Tinyurl links, that unshorten to these domains), and any attachments matching Hacking Team's exploits or spyware.
Finally, if NIS initiated their Bitcoin domain name purchases from a single address, it may be possible to trace NIS's Bitcoin address by searching the Blockchain using the registration times associated with the domains. Tracing NIS's Bitcoin address could illuminate further elements associated with their C&C architecture.
Footnotes
1http://eng.nis.go.kr/svc/history.do?method=content&cmid=11915
2http://www.economist.com/blogs/banyan/2014/03/south-korean-intelligence
3http://www.economist.com/blogs/banyan/2014/03/south-korean-intelligence
4http://www.bbc.com/news/world-asia-31284704
5http://www.nytimes.com/2013/11/22/world/asia/prosecutors-detail-bid-to-sway-south-korean-election.html
6http://www.nytimes.com/2013/05/01/world/asia/prosecutors-raid-south-korean-spy-agency.html
7http://www.reuters.com/article/2015/07/16/southkorea-spychief-retrial-idINKCN0PQ0LJ20150716
8http://web.international.ucla.edu/asia/article/31102
9https://citizenlab.ca/2014/02/mapping-hacking-teams-untraceable-spyware/
10http://www.ohmynews.com/NWS_Web/view/at_pg.aspx?CNTN_CD=A0001970476
11http://www.wired.com/2015/07/hacking-team-breach-shows-global-spying-firm-run-amok/
12 See "서울 서초우체국 사서함 200호" on http://www.nis.go.kr/svc/community.do?method=content&cmid=11477, which matches "Seocho P.O Box 200, Seocho-dong, Seocho-gu, Seoul, Korea" on https://wikileaks.org/hackingteam/emails/emailid/441251.
13http://english.hani.co.kr/arti/english_edition/e_national/700356.html
14http://english.yonhapnews.co.kr/national/2015/07/19/43/0302000000AEN20150719001152315F.html
15http://www.nytimes.com/2015/07/20/world/asia/in-suicide-note-south-korea-hacking-expert-denies-domestic-spying.html?_r=0
16http://bigstory.ap.org/article/acd838d482254df9b7e401607bfce9a0/south-korean-spy-agency-explored-technology-hack-chat-app
17http://english.yonhapnews.co.kr/news/2015/08/04/0200000000AEN20150804000900315.html
18https://wikileaks.org/hackingteam/emails/emailid/441228
19https://wikileaks.org/hackingteam/emails/emailid/441228
20https://wikileaks.org/hackingteam/emails/emailid/440571
21https://wikileaks.org/hackingteam/emails/emailid/441056
22https://wikileaks.org/hackingteam/emails/emailid/440827
23https://wikileaks.org/hackingteam/emails/emailid/441309
24https://wikileaks.org/hackingteam/emails/emailid/440989
25https://wikileaks.org/hackingteam/emails/emailid/441105
26 See "서울 서초우체국 사서함 200호" on http://www.nis.go.kr/svc/community.do?method=content&cmid=11477, which matches "Seocho P.O Box 200, Seocho-dong, Seocho-gu, Seoul, Korea" on https://wikileaks.org/hackingteam/emails/emailid/441251.
13http://english.hani.co.kr/arti/english_edition/e_national/700356.html
27http://english.hani.co.kr/arti/english_edition/e_national/700356.html
28 See, e.g., https://wikileaks.org/hackingteam/emails/emailid/16742; https://wikileaks.org/hackingteam/emails/emailid/608816; https://wikileaks.org/hackingteam/emails/emailid/585101; https://wikileaks.org/hackingteam/emails/emailid/42977
29https://ht.transparencytoolkit.org/Amministrazione/01%20-%20CLIENTI/6%20-%20Offensiva/Client%20List_Renewal%20date.xlsx
30https://wikileaks.org/hackingteam/emails/emailid/441306
31https://wikileaks.org/hackingteam/emails/emailid/441293
32https://wikileaks.org/hackingteam/emails/emailid/440837
33https://wikileaks.org/hackingteam/emails/emailid/441269
34https://wikileaks.org/hackingteam/emails/emailid/440822
35https://wikileaks.org/hackingteam/emails/emailid/437543
36 Source: "Price_1214-1[1].pdf" extracted from "Price_1214-1[1].zip" in e-mail: https://wikileaks.org/hackingteam/emails/emailid/440822. The attachment is unavailable on WikiLeaks. The password to extract the .zip file is "ejopenit" (without quotes).
37https://wikileaks.org/hackingteam/emails/emailid/441001
38 Source: "LC.pdf" extracted from "LC.zip" in e-mail: https://wikileaks.org/hackingteam/emails/emailid/441001. The attachment is unavailable on WikiLeaks. The password to extract the .zip file is "ejopenit" (without quotes).
39https://wikileaks.org/hackingteam/emails/emailid/441207
40https://wikileaks.org/hackingteam/emails/emailid/441001
41 Source: "certificate of acceptance.pdf" extracted from "certificate of acceptance.zip" in e-mail https://wikileaks.org/hackingteam/emails/emailid/441207. The attachment is unavailable on WikiLeaks. The password to extract the .zip file is "ejopenit" (without quotes).
42 Source: "software license agreement.pdf" extracted from "software license agreement.zip" in e-mail https://wikileaks.org/hackingteam/emails/emailid/441001. The attachment is unavailable on WikiLeaks. The password to extract the .zip file is "ejopenit" (without quotes).
43https://wikileaks.org/hackingteam/emails/emailid/440599
44https://wikileaks.org/hackingteam/emails/emailid/441209
45https://wikileaks.org/hackingteam/emails/emailid/808281
46 See "My googletalk id for communication is smiolean" in https://wikileaks.org/hackingteam/emails/emailid/715100.
47https://wikileaks.org/hackingteam/emails/emailid/790170
48https://wikileaks.org/hackingteam/emails/emailid/797052
49https://wikileaks.org/hackingteam/emails/emailid/781892
50https://wikileaks.org/hackingteam/emails/emailid/782084
51https://wikileaks.org/hackingteam/emails/emailid/441239
52https://wikileaks.org/hackingteam/emails/emailid/440900
53https://wikileaks.org/hackingteam/emails/emailid/673756
54https://wikileaks.org/hackingteam/emails/emailid/353110
55https://wikileaks.org/hackingteam/emails/emailid/702485
56https://wikileaks.org/hackingteam/emails/emailid/73106
57https://wikileaks.org/hackingteam/emails/emailid/16742
58https://wikileaks.org/hackingteam/emails/emailid/75661
59http://www.forbes.com/sites/kathleenchaykowski/2015/05/28/creator-of-messaging-app-kakaotalk-acquires-social-network-path/
60http://bigstory.ap.org/article/97c92b056482488abd990db9a4acb388/s-korea-rumor-crackdown-jolts-social-media-users
61https://wikileaks.org/hackingteam/emails/emailid/441040
62https://wikileaks.org/hackingteam/emails/emailid/440923
63https://wikileaks.org/hackingteam/emails/emailid/17076
64 Source: "TNI Datasheet.docx" in e-mail https://wikileaks.org/hackingteam/emails/emailid/511703.
65https://wikileaks.org/hackingteam/emails/emailid/728653
66https://wikileaks.org/hackingteam/emails/emailid/18952
67https://wikileaks.org/hackingteam/emails/emailid/361888
68https://wikileaks.org/hackingteam/emails/emailid/354147
69https://wikileaks.org/hackingteam/emails/emailid/482969
70https://wikileaks.org/hackingteam/emails/emailid/665890
71https://wikileaks.org/hackingteam/emails/emailid/786233
72https://wikileaks.org/hackingteam/emails/emailid/31789
73https://wikileaks.org/hackingteam/emails/emailid/33868
74https://wikileaks.org/hackingteam/emails/emailid/44184
75https://wikileaks.org/hackingteam/emails/emailid/27950
76https://wikileaks.org/hackingteam/emails/emailid/33398
77https://wikileaks.org/hackingteam/emails/emailid/38800
78https://wikileaks.org/hackingteam/emails/emailid/43363
79https://wikileaks.org/hackingteam/emails/emailid/27419
80https://wikileaks.org/hackingteam/emails/emailid/40565
81https://www.virustotal.com/en/file/cbde6a113a54b8dcf122d9d879b7c21c8b03a89d792f49210bbe41e8466d121a/analysis/
82https://www.virustotal.com/en/file/21e8d495bca60edc3b64ac970f9a9fa896d0eadc6491452ea937d64849b1f4a0/analysis/
83https://wikileaks.org/hackingteam/emails/emailid/686579
84https://wikileaks.org/hackingteam/emails/emailid/674354
85https://wikileaks.org/hackingteam/emails/emailid/673712
86https://wikileaks.org/hackingteam/emails/emailid/676667
87https://wikileaks.org/hackingteam/emails/emailid/315891
88https://wikileaks.org/hackingteam/emails/emailid/630854
89https://wikileaks.org/hackingteam/emails/emailid/1526
90https://wikileaks.org/hackingteam/emails/emailid/22456
91https://wikileaks.org/hackingteam/emails/emailid/27582
92https://wikileaks.org/hackingteam/emails/emailid/27029
93https://wikileaks.org/hackingteam/emails/emailid/1031218
94https://wikileaks.org/hackingteam/emails/emailid/25540
95https://wikileaks.org/hackingteam/emails/emailid/1079340
96https://wikileaks.org/hackingteam/emails/emailid/1079405
97 This reflects the time of the initial click (i.e., the time in the log of the request for "/fwd").
98 This reflects whether there is a log entry for the ".apk" file for the IP, indicating that the Hacking Team RCS was installed.
99https://wikileaks.org/hackingteam/emails/emailid/1079122
100https://wikileaks.org/hackingteam/emails/emailid/1078587
101https://wikileaks.org/hackingteam/emails/emailid/1078587
102https://wikileaks.org/hackingteam/emails/emailid/1078956
103https://wikileaks.org/hackingteam/emails/emailid/1078956
104https://wikileaks.org/hackingteam/emails/emailid/1079019
105https://wikileaks.org/hackingteam/emails/emailid/1079095
106https://wikileaks.org/hackingteam/emails/emailid/1079095
107https://wikileaks.org/hackingteam/emails/emailid/1079521
108https://wikileaks.org/hackingteam/emails/emailid/789
109https://wikileaks.org/hackingteam/emails/emailid/1450
110https://wikileaks.org/hackingteam/emails/emailid/779
111https://wikileaks.org/hackingteam/emails/emailid/1079521
112https://wikileaks.org/hackingteam/emails/emailid/1526
113https://www.passivetotal.org/
114https://wikileaks.org/hackingteam/emails/emailid/25016
115https://wikileaks.org/hackingteam/emails/emailid/628450
116https://wikileaks.org/hackingteam/emails/emailid/628450
117https://wikileaks.org/hackingteam/emails/emailid/371942
118 Shares IP address 119.59.123.78 with free.dramakorea.asia and shrook.mooo.com, according to PassiveTotal.
119 C&C server for newer RCS samples, e.g., https://wikileaks.org/hackingteam/emails/emailid/1078904.
120https://wikileaks.org/hackingteam/emails/emailid/473090
121https://wikileaks.org/hackingteam/emails/emailid/1001778